Overview

The Tabulation feature allows you to easily run simple and cross-tabulations on any given survey. Tabulation results can be either shown on screen or saved to HTML or Excel format for reporting. To use the tabulation feature:
Step 1: Running simple tabulations
Step 2: Running cross-tabulation
Please note: The Tabulation module is not designed to handle huge datasets and there is a limit of 5,000 interviews.
Online Video
Direct Youtube link (for full screen): https://youtu.be/vVghft3R6po
Step 1: Running Simple Tabulations

To run Simple Tabulations
Open the project where the survey resides and double click the "Tabulation" node:

Select the relevant survey from the list and click the "Tabulate" button:

Now you are ready to run the tabulation. Simple check the relevant questions you wish to run a tabulation for and click the "Create tabulation" button:

Make sure that the date filters are set correctly to download the data you wish to tabulate:



if you need to tabulate all data for the survey, uncheck the "upload date" and "submit date" filters.

The tabulation outcome will show on the bottom part of the screen with a chart and a data table for each question:



Here is a description of the various parts of the Tabulation screen: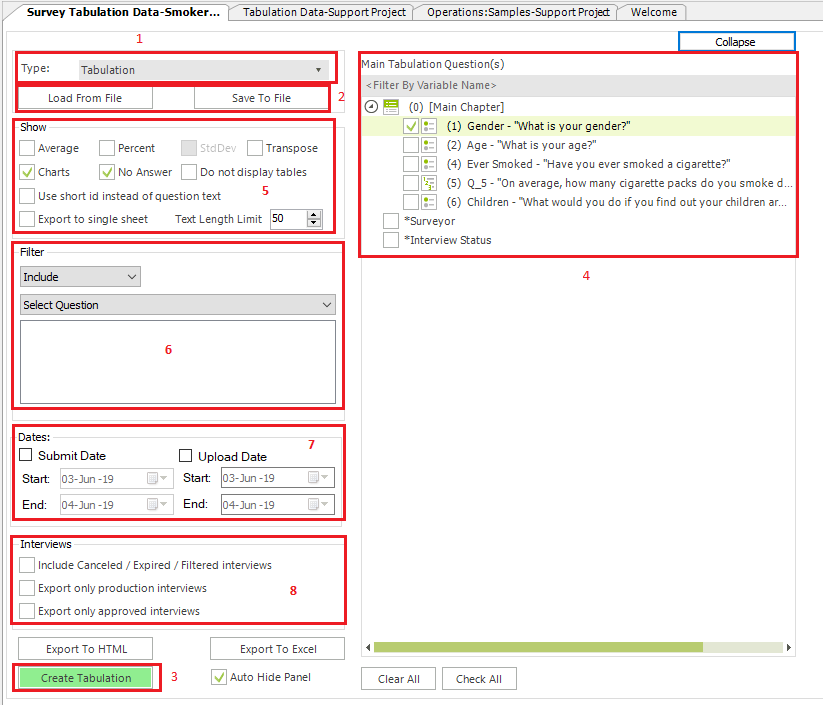 | | |
| --- | --- |
| Component | Description |
| (1) Tabulation Type | Switch between regular and cross-tabulation mode |
| (2) Save/load from file | You can save the tabulation settings and options to a special "tabulation settings" file. You will then be able to use that file in the future by loading it using the "Load from file" button or email the file to a colleague |
| (3) Create Tabulation | The Create Tabulation button generates the tabulation based on your chosen settings |
| (4) Main Tabulation questions | Select the relevant questions you wish to generate tabulations for. You can also click the "Check All" or "Clear All" to easily check or clear all the questions |
| (5) Additional data to show | The various options for displaying additional data for each of the questions. |
| (7) Date filters | Allows you to specify the dates you wish to run the tabulations for. If you wish to run the tabulation for all data, uncheck both filters. |
| (8) Filtering options | Allows you to include/exclude data based on interview status and production/test mode. By default only production interviews are included |
Step 2: Running Cross-Tabulation

To run Cross-Tabulation:
Switch the tabulation mode to "Cross-tabulation":
A new question list will show up to allow you to choose the questions to cross tabulate on:


You can select to cross-tabulate on one or more questions

Click the "Create Tabulation" button to generate the cross-tabulation:

The cross-tabulation will show up on the bottom:

If you cross-tabulate on more than one question, more than one tabulation will show:
Note: Sometimes, you will need to group sets of answers together for your tabulations. You can use the "Answer groups" to group answers together for the cross-tabulation. For example, here is how to group ages <40 and > 40 into 2 groups:

Which will show the group: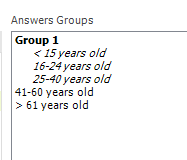 Next you can group the above 40 age groups together to generate a second group: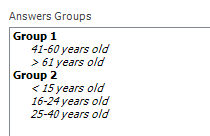 Now, if you generate a cross tab it will show you the data per the relevant 2 groups instead of 5 groups:
Visit us at: http://www.dooblo.net