Overview
Once the interview has synced and uploaded to the server you can review it in the Operations Console.
This guide will explain the data and how to view it
Description
To open the observation double click on the subject

In the following screen you will find the data related to this interview, the screen is split to 2 sections
Upper section
Main - Shows the interview general information such as Status, Surveyor, Latest Version and Version collected, location if applicable.

Course - Displays information related to the subject Durations and times such as Start/End/Upload Date&Time, Total/Net Duration, Idle time, Number of sessions, Stop Question & Termination Information.


Auto Interview Flagging - Will show the different Interview Flagging according to what was set in the survey Quality Control


Silent Recording - Enables you to play the audio files captured while reviewing the interview data

Custom Variables - Will show a summary of the custom fields captured during the interview as scripted, click here to learn how.

Survey Details - Various interview details such as whether the interview was stopped and continued, used a fake GPS, modified after completed etc.

CAWI - Will be displayed only for CAWI interviews - Displays CAWI related information such as Link sent, Finish page, Ticket, Identifier, expiration Date etc.


Advanced - Additional interview data such as STG Android version, IMEI, DeviceID, TaskID and the ability to review the interview log

Lower Section
Data - Will show the interview data, you can choose to display either the 'Question Index', 'Short ID' or 'Variable Name'.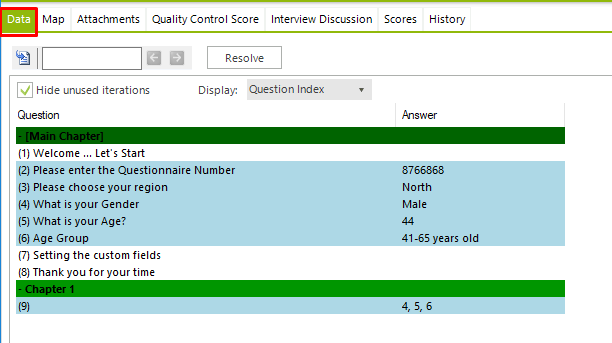 Map - Will show the coordinates captured for the interview

Attachments - will show the different attachments captured during the interview: Photo,Video, Audio

Subject Quota - Will show the quota captured for this interview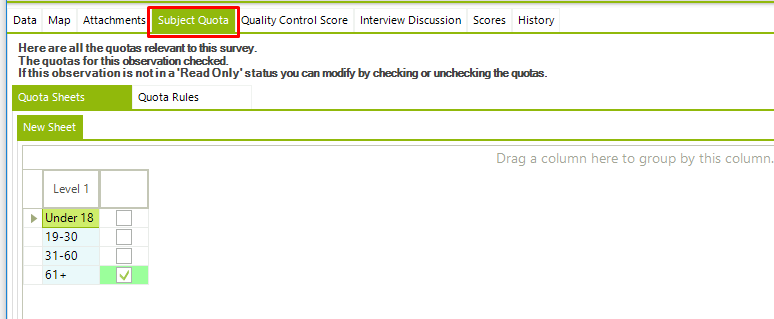 Quality Control Score - Will show the Quality Control Chapters if any were setup in the survey

Interview Discussion - Allows you to see the internal comments added related to this interview

Scores - Will show the interview score according to the setup

Child Survey - if subject has a child survey and additional tab will be shown with the details of the child subject.

History - Will show the history of the different actions done with this subject such as: Upload, status change

That's It !