Overview
Google Data Studio is a free tool that turns your data into informative, easy to read, easy to share, and fully customizable dashboards and reports.
Use the drag and drop report editor to:
Tell your data story with charts, including line, bar, and pie charts, geo maps, area and bubble graphs, paginated data tables, pivot tables, and more.
Make your reports interactive with viewer filters and date range controls. The data control turns any report into a flexible template report that anyone can use to see their own data.
Include links and clickable images to create product catalogs, video libraries, and other hyperlinked content.
Annotate and brand your reports with text and images.
Apply styles and color themes that make your data stories works of data visualization art.
In this guide we will provide you with details on how to connect your survey data and meta data to Google Studio and be able to share dashboards and reports with your customers.
Pre Requisites: Google Account
Steps
Login to Google Data Studio using this link - https://datastudio.google.com/
Click on 'Blank Report to create a new report

In the following screen you will be asked to choose one of the connectors in order to create a data source, search for 'Dooblo', Under the Partner Connector you will find our connector

Click on the connector to continue, please note that you might need to 'authorize' your account credentials.
Once you are authorized, in the below screen enter the details to connect

Enter Server Identifier - a unique server identifier for authentication, please enter 'inet'.
Please Note: if your organization is using a dedicated server you will be provided with the Identifier needed to login).
API Key - your API user which consists of APIKey/username
Password - your API password
Please contact support here if you do not know your APIKey and/or password
Copy and paste the SurveyID and click 'Connect'


Your have now successfully created a data source and are ready to start creating reports/dashboards
Read more on how to use and work with Google Data Studio here
In order to stop a survey's results from being pulled by a report in Google Data Studio, you can uncheck the following under the survey's settings: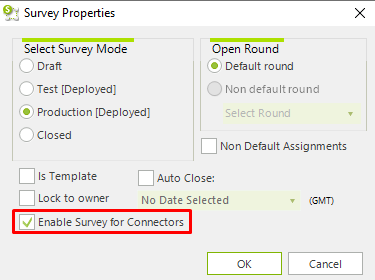 Monitoring the Packages Purchased
Account Overview
The connector usage is based on your available connector subscription package. The available subscription packages can be found on our pricing page at https://www.dooblo.net/pricing/
(Note: The packages will be available soon. For connector subscription packages until they are available for purchasing directly through our site please contact support@dooblo.com)
Under the Account Overview you will be able to find the purchases and invoices bought for the Analytics Connectors, you will see on top the balance, check if the subscription is Monthly/Yearly and be able to 'Cancel' monthly subscriptions.

Connector Usage Report
To open the connector usage please navigate to the 'My SurveyToGo Account' - and choose 'Connectors Usage Report'
Once opened you will see the usage of the different packages purchased as well as the survey name, which connector was used, which package was used (if more than one purchased) and the balance you currently have left.

Email Notifications
Email notifications will be sent as below:
Threshold Reached - when the credits you purchased for the connector will be close to exhaustion you will receive an email notification to purchase additional package.
Yearly Subscription - As the yearly subscription will not automatically renew when the subscription is about to expire you will be notified to remind you to purchase a new subscription.
Monthly Subscription - At each month renewal date you will receive a notification that the subscription will be renewed on a certain date so you can choose either to continue or cancel.
For more details, please see our Terms and Conditions and Privacy Policy.
That's It !