Overview
SurveyToGo is designed to enable you to run field surveys either for yourself or for your customers. Market research firms usually conduct surveys for their customers while other companies might use SurveyToGo to conduct surveys for their own use.
What is a SurveyToGo Organization?

An organization represents your company's private space in SurveyToGo. Once you register for a SurveyToGo account an organization is created for you with the name you specified as your company and you can see your organization name listed on the root node in the SurveyToGo Studio: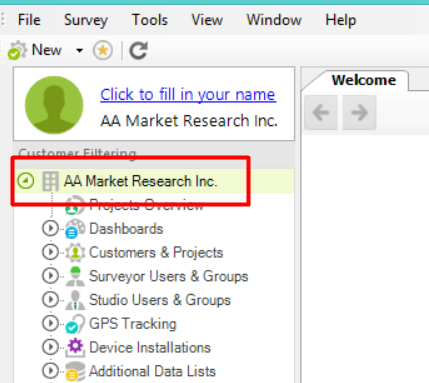 You should only register once per company and if you need to grant other people from your company access to SurveyToGo – just create users for them and send them the user details and organization name.
Only you and the users that you create have access to your organization. All the surveys that you will create will be created in your organization and cannot be accessed by anyone other than you and the users that you create.
You can also change the properties and contact details of your organization by right clicking on the organization node and clicking on the "Organization Properties":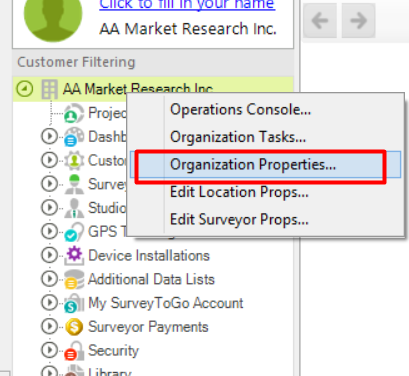 What are Customers?

SurveyToGo includes a "Customers" node: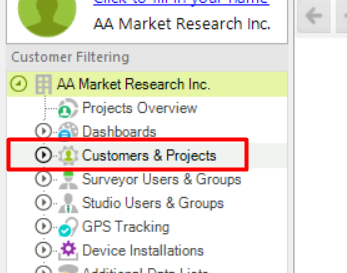 These customers represent your customers. If you are a Market Research firm and you conduct surveys for 4 different customers, you will create 4 different customers under the customers node. By default, SurveyToGo includes an already defined "Demo Customer", which you can safely delete after you are comfortable with SurveyToGo.
Here is an example of a the "AA Market Research Inc" organization that conducts surveys for these customers:
Coca Cola
Euro-Car Inc
Kellogs
etc'...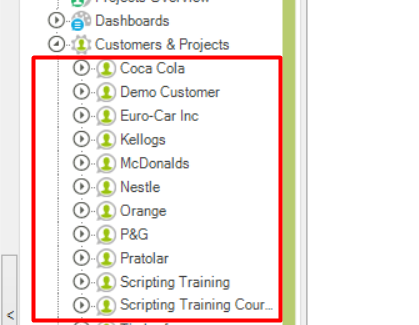 Creating customers is easy and can be done through the "New" button located at the top: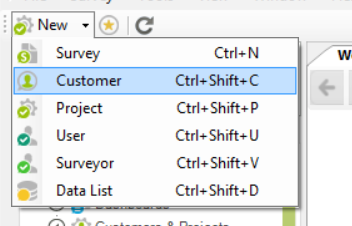 What are Customer Projects?

SurveyToGo Customer Projects represent the actual survey projects you are conducting for your customers. The customer project includes the surveys, surveyors & tools that you need to perform the survey project: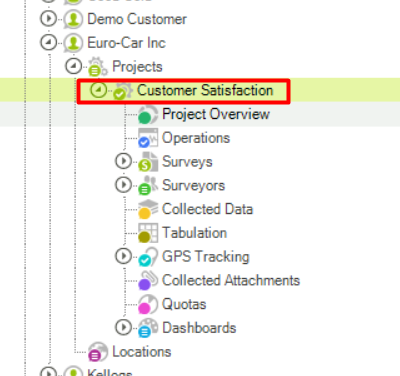 The project includes the following content and tools:
Operations
This management tool that lets you know who did what and when. Double click this node to open the operations console.
Surveys
This node shows you all the surveys in this project. A project can have more than one survey, usually it contains several versions of the same survey but it can also contain totally different surveys that are part of this project. For example, a customer satisfaction project done at a trade show can contain 2 surveys, one to survey customers attending the keynote lecture and one for the other customers who are walking around the trade show.
Surveyors
The Surveyors node includes all the surveyors that are assigned to this project. These surveyors will be able to conduct the surveys in this project and will see them on their PDA or Laptops.

Collected Data
This tool lets you export the data that was collected in the surveys. You can export to MS Excel, SPSS, MS Word, MS Access and more. Double click this node to open the export tool.

Tabulation
This tool lets you run basic tabulations and cross tabulations on your collected data. Double click this node to open the tool.

Collected Attachments
This management tool enables you to export and archive the attachments you have collected. It's useful for situations where large attachments are involved and instead of upgrading your storage space of SurveyToGo you would rather archive the attachments on your own.

Quotas
This tool lets you view and manage the quotas set for the surveys of this project. Double click this node to open the tool.

Creating projects is easy and can be done by right-clicking on a customer and selecting the "Create new project" option: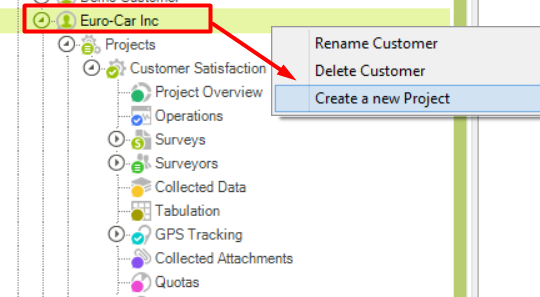 Or through the "New" button on the top: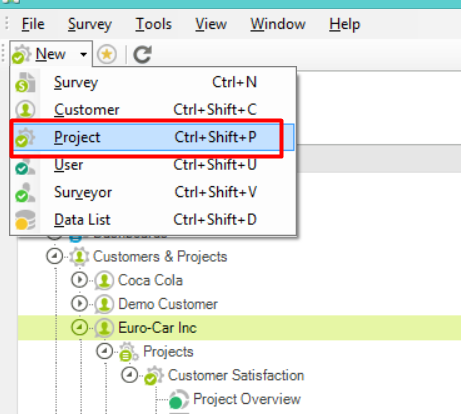 This starts the new project wizard.