Overview
This article will show you how to understand your account overview showing 'Payment History' and 'Storage Subscription'.
The Account Overview will be helpful to keep track of your orders, payments and cancellations for both credits and storage.
You can also transfer credits to your other organizations and cancel your storage subscription.
General
In the 'My SurveyToGo Account' Node double click on 'Account Overview'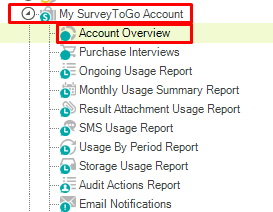 On the top of the screen you will see your Current Balances for both credits and storage.

In the Account Overview window 2 tabs are available:
Storage Subscription Info
This tab will show you a breakdown of all your storage subscriptions and purchases.

Please Note: You can 'Cancel' your subscription by clicking on the 'Cancel' button on the right.

Payment History
Will show a list of all the payments made by the organization Including: Order Reference, Transaction Type, Payment Type. You can also see/print the Invoice by clicking on the invoice link.

Transfer Credits
You can transfer interviews to other Organizations that are available for you.
Please note: To activate this feature please contact Dooblo Support at support@dooblo.com

That's It !