Overview
This guide will get you started with:
How to create tickets for our support
Our portal knowledge base and how to use it.
General
Zendesk is a Help Desk software helping streamline customer support with time-saving tools like triggers and automations. It's intuitive, built with the experience of customer service and support desk agents in mind
Signing In
Sign-up
Login URL - https://dooblo.zendesk.com
Click on the 'Sign in' at the top right corner

On the bottom left corner click on 'Sign Up' link
Fill in the information on the following window and click 'Sign Up'
A confirmation email you will be sent to the address specified in order to verify and choose a password. Click on the link and follow the instructions
Login Information
Login URL - https://dooblo.zendesk.com
Click on the 'Login' at the top right corner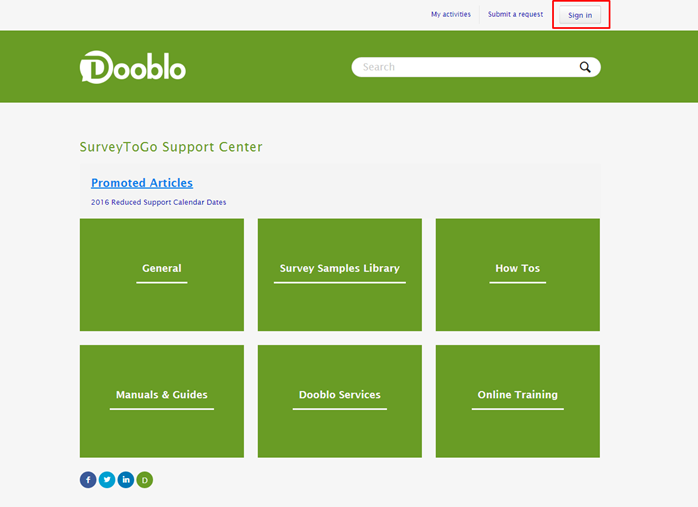 Enter your user/password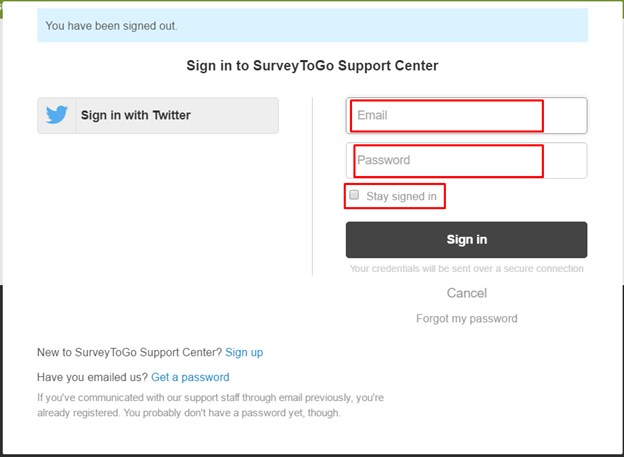 Opening Tickets
The tickets can be opened in 2 methods:
Send an email to our support mail: support@dooblo.com
A customer clicks on the 'Submit Support Ticket'/'Support Ticket' in our application.
Account Information
Once you are logged in click on the right upper corner on your 'Account Name'

You will be able to choose one of the following:
My Activities
Edit My Profile
Change password
Sign Out

My Activities
Requests –

My Requests – List of tickets that you have submitted.
CCs – list of tickets that you were cc'd on.

Contributions -

Community Comments – Questions/posts that you have submitted in our community.
Articles Comments - List of articles/guides that you have commented on.

Following – List of articles/Posts that you have asked to follow and get updates on.
Edit My Profile
General information about your account that you can edit.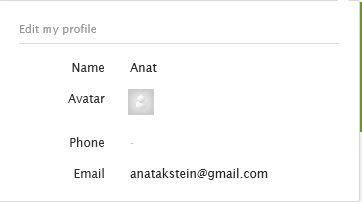 Change Password
A screen to change your login password.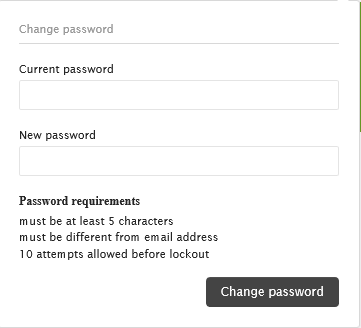 Working with Tickets
Submit a Request
On the top toolbar click on 'Submit a Request' the following screen will show:
Fill in the fields and click 'Submit'.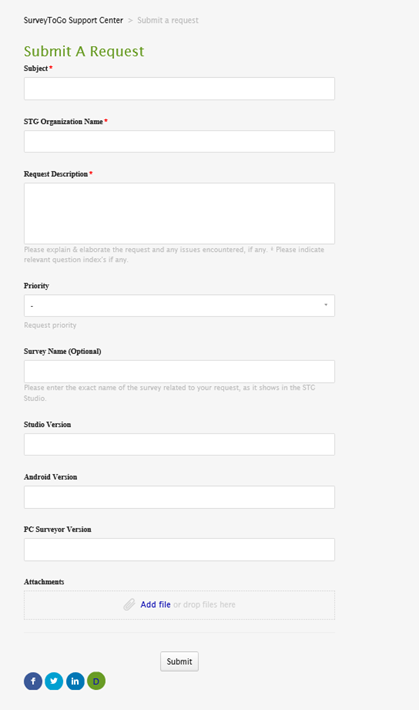 Please note: As soon as you type your subject for the request you will be prompt with related topics that might be helpful and answer your issue (see screenshot below):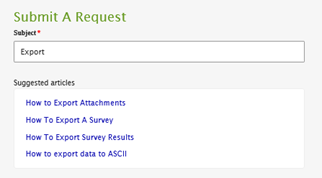 Managing Requests
On the Activities you will be able to see all the tickets you have submitted.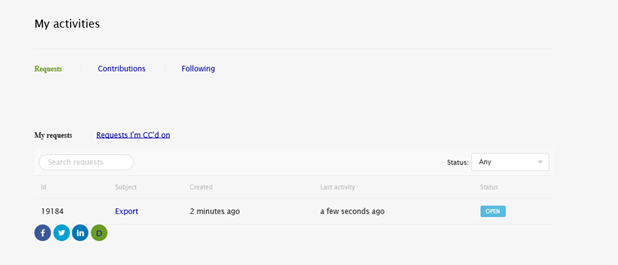 Clicking on the Export you will be able to view the comment and add a new one.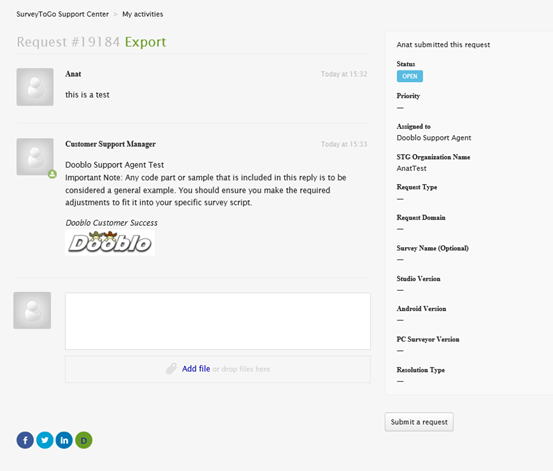 Knowledge Base
General
You can reach the Dooblo Support Knowledge Base by
Clicking on Dooblo Logo
A structured search by Categories
Starting to search for keywords
How to use
Option 1 – Free Search
In the text box start typing the topic you would like to search about, a list of similar topics will show you can either choose one of them and click 'Search' or just click 'Search'.
The list of relevant articles will appear in 2 columns:

Knowledge Base – Articles added by the STG Support teams.
Community – Comments/Questions added by customers.

Each Article found will show:

Author of the article
When was it added
The path to the article
Option 2 – Search By Category
Click on one of the categories
You will see a list of Sub-Categories and articles.

You can always go back to the categories list by clicking on 'SurveyToGo Support Center'.