The new version is available to all our customers at no cost. You are welcome to request an upgrade of your Studio version if you wish to take advantage of these productive feature.If you wish to be upgraded please contact: support@dooblo.com
Supported Android/PC Surveyor Version: 247 and higher
New Features
Security: Security Enhancements
Select users and assign them roles and projects in 3 easy steps.
Click Here to learn more how to use Create/Assign Roles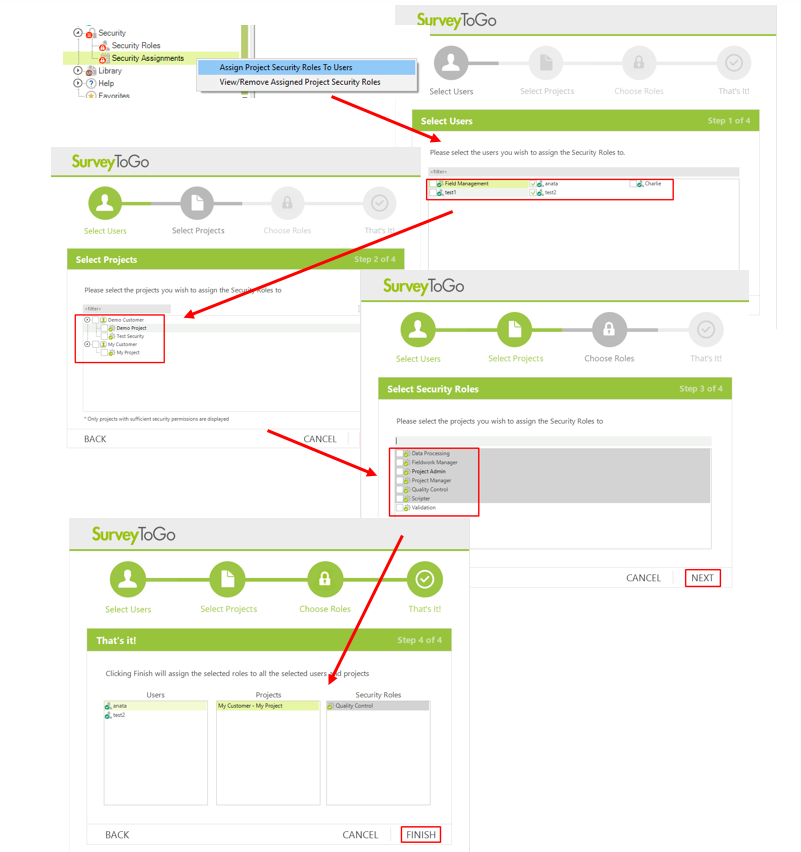 Quality Control: Update Question Answers Across Multiple Subjects
This feature will enable you to set an answer/s for multiple subjects. Click Here for full details and steps.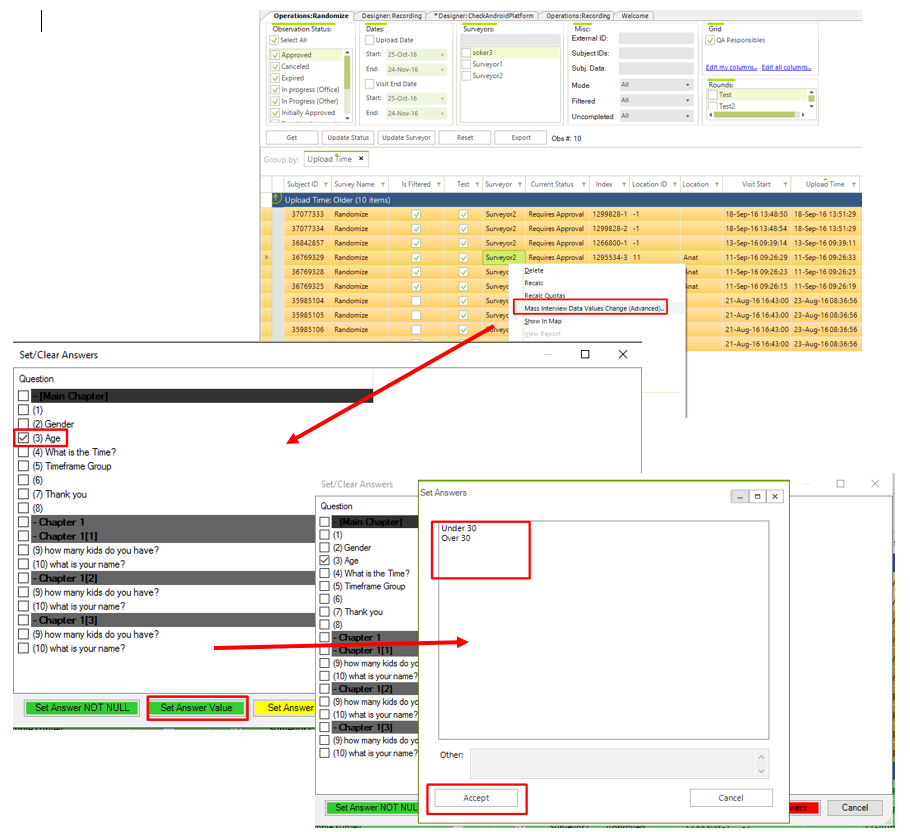 Survey Designer: Multi Update Attachments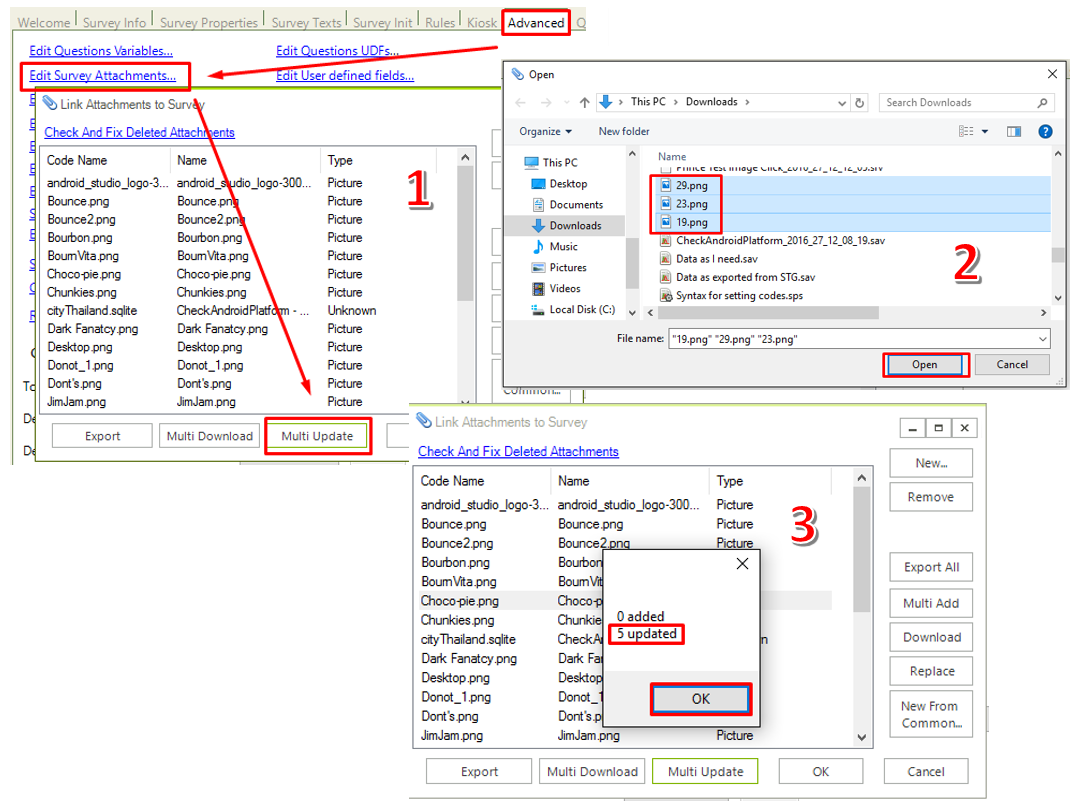 Now you can update multiple survey attachments in just a few clicks.
Holding the Ctrl+Shift and Click on 'Edit Survey Attachments' the 'Multi Update' option is now shown, Click on - Choose the files you would like to Update and that's It.
Survey Designer: Supporting Custom Fonts
You are now able to add your own special fonts and use them, Click Here for detailed Instructions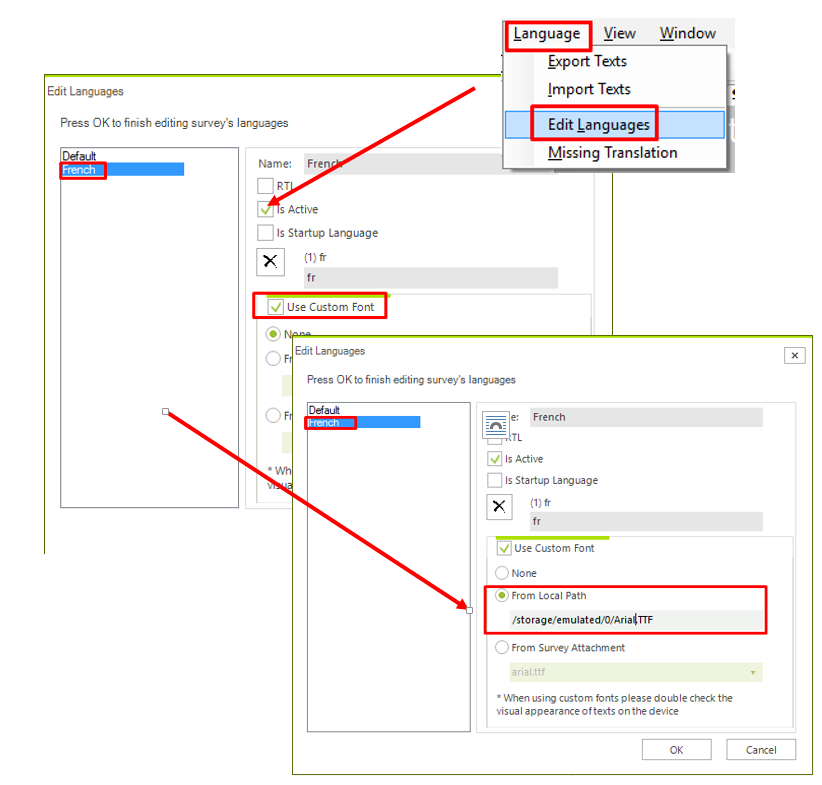 Survey Designer: Ability to Copy\Cut & Paste Chapters/Sub-Chapters
When cutting\copying a chapter you can now choose where you would like to paste it, either as a chapter elsewhere in the survey or as a sub-Chapter.
Other Features
Support Attachments Questions when importing from Dimensions.
Flagging interviews that used FakeGPS applications
SetAnswerChoice() Function enabled for Single Choice Grid
Clicking on Image will display the full Image
Do not allow to Use/Save surveys when using reserved words as Variable Names
Support exporting to dimensions via the Automatic Export (CMDLine)
Major Bug Fixes
General Issues:
Visual bugs due to font scaling
Studio Performance: Issues with handling right click
Languages: Issues when importing language files with HTML
Dummy Data Generator issues when handling Datetime questions
Issues when creating a new studio user and not confirming the password
Issues with printing of surveys
Issues with Mutli Select questions rendering Auto complete
Issues with in correct order in survey Assigned Surveyors list
Issues with Single Choice questions rendering as Slider that includes Other Specify answer.
Issues with Importing and cancelling Quotas
Adding additional message when using tabulation
Issues with Compound Grid when using RTL.
Export Issues:
Issues with exporting questions with more than 15 indices.
Quantum export - Removing limit of columns when exporting to one card.
Issues with creating quantum map by previous map
Issues with exporting GPS & Location questions
Issues when exporting open ended questions with special codes alignment.
Issues with exporting using a settings file
Issues when exporting multiple Other Specify while using the settings: only export one variable
Issues with exporting open ended question to Access - limit the text to 255 or export as a memo.
Issues when exporting long string to SPSS
Issues when exporting and Importing to\From Triple-S