Overview
When exporting the data you can either the export with code (Default) or export the Text of the answers.
Update a Single Question
By default, when you export survey data, the data will contain the coding of the question instead of the text since this is usually the easiest for data analysis. For example, say you have the following question:
This question has the following answers with their respective codes:
So, if someone answers "Very good!" and you would export the data, you would see a "1″ in the data sheet:
However, sometimes you might want to have the actual "Very good!" text appear in the data instead of the coding. Here is how you can do this:
On the "Variables" tab of the question, check the "Export Answers as Text" box:
Save the survey.
Now export the survey again. This time, the data will look like this:
Update a all Questions
You can also change all the questions at the same time as follows:
Right Click on the survey Name in the designer and choose 'Edit Question Props'

In the following window choose the following:
'Check All' - If you would like to change this setting to all questions or click on the questions that you would like to apply this on.
'Change Export As Text' and 'Export As Tex'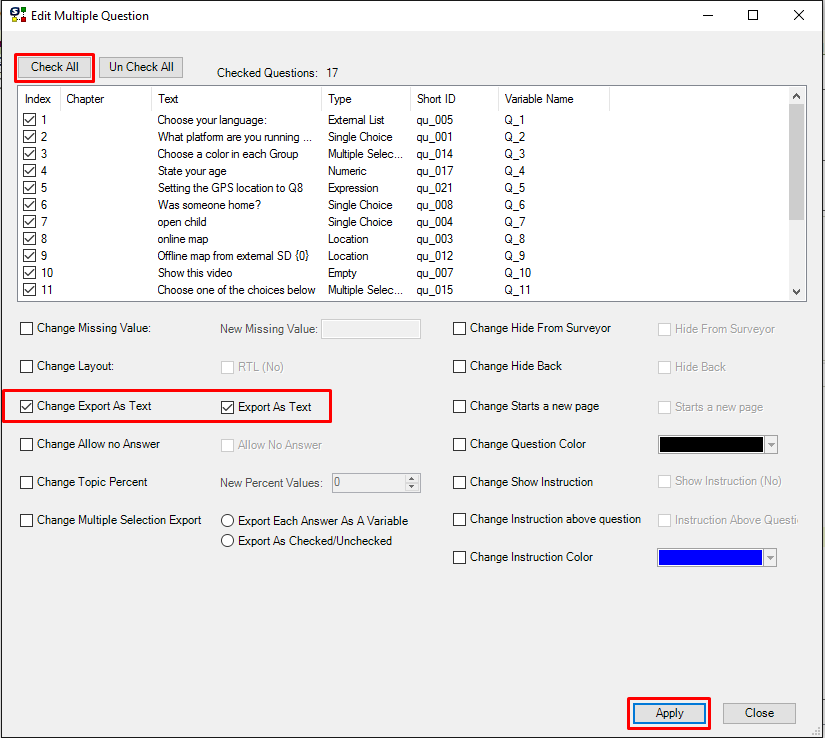 Then click on 'Apply'
These configurations can also be done after data collection was completed.
Please Note: You can also use the Export UI to export the questions as text - navigate to the 'Data Options' tab and enable the option 'Export all questions as text'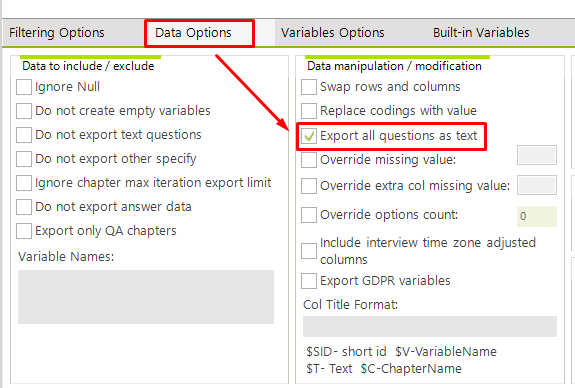 That's It!